Today we begin our foray into dissecting all of the different life insurance companies that are available in the market today.  Perhaps more importantly we will review their specific policies and the nuances that lurk within.
The first company we're going to look at is Prudential life insurance and more specifically we're going to dig into their Term Essential,Term Elite, and WorkLife 65
A little background
Prudential was actually started in a basement office in New Jersey back in 1875.  Obviously, they've outgrown that original space.
For many years, they were a significant player in the whole life insurance arena but after demutualization in 2001 that affected some 11 million plus policyholders, they've made a major shift in their focus.  They are now a company almost completely focused on their three term life insurance products.
As a matter of fact, they seem to be the largest life insurance company doing business today that is not interested in selling cash accumulation types of permanent life insurance policies.
I'm going to assume that we don't need to go into great depth as to why you'd need term life insurance.  Some of the most common reasons are to cover mortgage payments, pay for your children's education, replace an income or to cover business related expenses for a key person or a partner.  I don't think anyone could argue that there are times when you have a straight forward need to protect your family or your business.
Sometimes we can all be distracted by the complexities of life insurance–cash accumulation aspects, and proper structuring of a whole life or universal life contract.  But undoubtedly there are many times when a plain vanilla term life policy is the appropriate policy to cover a particular need or set of needs.
And this is Prudential's bread and butter.
Let's look at their term products:
WorkLife 65
This product is really meant to protect your family during the years you are working when your household expenses are likely to be the highest and your family has the most to lose if the breadwinner were to die.  The worklife65 product offers:
Up to forty years of continuous coverage if purchased at age 25
Waiver of premium for specific periods of disability and unemployment
Low-Cost premiums—for example—a 40-year old man at a preferred best rating can get $250,000 of coverage for less than $35/month
A guaranteed conversion feature to any of Prudential's permanent (universal life, guaranteed universal life etc.) insurance policies without having to complete a medical exam
If you want a more comprehensive run-down on this product, you can check out the short video below
[FMP width="266″ height="200″]http://theinsuranceproblog.com/wp-content/uploads/2012/06/Prudential-Life-Insurance.mp4[/FMP]
Term Elite
Prudential refers to the term elite policy as "Your Stepping Stone to Permanent Insurance" because of what they deem to be a "generous conversion privilege".  As with most term insurance products, this policy comes in a 10, 15, or 20 year variety and the premiums are guaranteed level throughout the entire term period.  Additionally premiums follow a very strict guaranteed increasing schedule.
The conversion privilege or advantage with this product is that Pru will give you a premium credit/conversion credit toward a permanent policy.  Perhaps the best things to do here is to quote directly from their own literature:
"With its conversion privilege, you can convert your term policy to a permanent life insurance policy at any time while the policy is in force until the later of five years from issue or the policy anniversary following your 65th birthday. And, if you convert within the first five years, a premium credit will be applied to your permanent policy's first-year premium."
That's clear as mud…right?
Well, they may consider it a privilege but we can say with some certainty that this product is rarely purchased.
Why?
Mainly because this "privilege" as they refer to it, comes at a significant additional cost in the premium.  And it's a cost that's not justifiable in most cases as the permanent insurance products from Prudential leave much to be desired when compared with the other life insurance companies we deal with.
What's more, their own Term Essential product is less expensive with all of the same underwriting guidelines, just without the premium credit for conversion.
Term Essential
The term essential product is undoubtedly where we have seen the majority of term insurance policies place with Prudential.  It's available as a 10, 15, 20 or 30 year policy term and the premiums are guaranteed to stay level throughout the length of the term.  Premiums then follow a much wider range of increasing costs (i.e. Essential can become more expensive after the level period than Elite)
This policy also allows for you to convert to any permanent coverage that is offered by Prudential at the time without having to endure another paramedical exam.
To better understand the conversion options and differences between the term elite and the term essential product, see the chart below.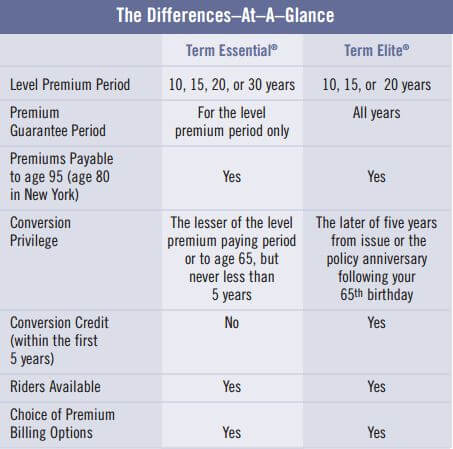 Where does Prudential's term insurance shine?
Honestly, what you'll find when dealing with Pru is that they are extremely aggressive jn underwriting life insurance cases.  This in part is due to the monstrous size of the company and the amount of premium they have on the books.  They are a huge player in the U.S. as well as abroad.
We've found that they are especially competitive in underwriting people who are smokeless tobacco users (Copenhagen, Skoal, Redman etc.).  Where most life insurance companies will rate these people at a Standard tobacco rate, Prudential will offer them a Preferred non-smoker rate.  This puts them at the top of a short list when issuing polices for those folks that chew tobacco, dip or snuff.
Also, Prudential seems to have carved out an underwriting niche for people over 50 and need more than $1 million of coverage.  We surmise this is because of their large internal retention ($10 million for Term Essential),  financial strength and deep asset base.
They will also consider the following for a preferred best rating:
 Most commercial and business jet pilots
 Scuba divers who dive up to 100 feet
 People with cholesterol levels up to and including 249, even if on medication that lowers cholesterol
 Male/Female 6'0", ages 18-64 and weighing up to 213 pounds
 Male/Female 6'0", age 65+ and weighing up to 228 pounds
I think you'd have to agree that these guidelines are some of the most generous in the industry, which is why Prudential consistently ranks among the top choices for term life insurance.
Now that's not to say that they're always a perfect fit but they may be a viable option for you depending upon your situation.  Either way, we can help you make that determination and evaluate your situation based on your particular circumstances.
And one more quick note: Prudential's modal factor (what they charge additionally if you don't pay annually) is quite high relatively speaking.  If you're planning on paying monthly, there may be less expensive options, even if the annual premium is higher than Prudential's annual premium.